OUR CUSTOMERS SPEAK THEIR MIND:
CUSTOMER REFERRALS
BRYAN HODES - 2000 CHEVY 2500 SILVERADO, ¾ TON PICKUP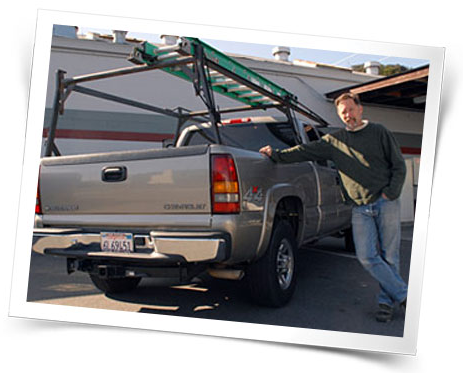 Bryan accidentally backed into a light pole in a Novato shopping center. The impact made no discernable impression on the light pole, but it pushed the rear bumper of the Silverado into the fender. Though the bumper was totaled, the tailgate was untouched. Bryan's passenger at the time recommended Gulicks Auto Body.
Initially Bryan took his truck to another auto-body shop, but he was unimpressed with their casual attitude and the fact that they didn't even take down his phone number. Later that day, Bryan called his insurance company who also referred him to Gulicks Auto Body.
Two recommendations were plenty for Bryan, and since Bryan and his truck put in long hours Monday through Friday, the fact that Gulicks was open on Saturday for estimates was icing on the cake.
The next Saturday, Bryan drove up from Novato and met Ken. Right off the bat, Bryan was impressed that Ken's approach was more thorough than other body shops. For example, Ken took pictures of damage. As Bryan puts it, "Ken and the shop were 'in tune' with a high level of professionalism and customer service."
Ken handled all of the paper work and promised to get the repair done in a week, which he did. Bryan sums it up this way. "Ken knows his stuff and he's a 'people person.'"
CLIFF NANNINI - HONDA CIVIC 2006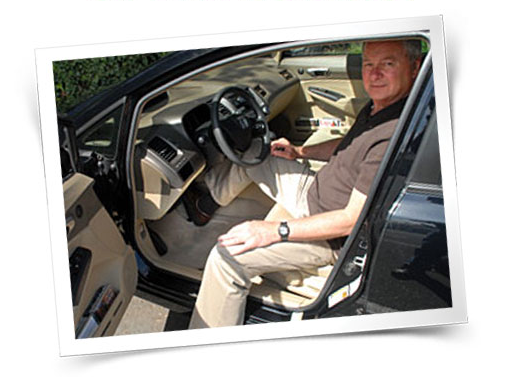 WHEN THE UNEXPECTED HAPPENS, EXPECT SATISFACTION FROM GULICKS.
In Feb 2009 and Cliff Nannini was driving his 2006 Honda Civic on 101 when a trailer hitch detached from a vehicle in the lane somewhere up ahead of him. Before Cliff could swerve to avoid striking the hitch, he ran over it and heard a series of thumps under his car. Suddenly, the hitch hit the under panel of Cliff's Honda with such force that the impact dented the floor, knocking Cliff's right foot off accelerator pedal while tearing the accelerator pedal from its mooring. Cliff was able to get off freeway and had his Civic towed immediately to Gulicks Auto Body which had been recommended to him by a friend at work.
Cliff reports that Ken took him right in, immediately examined the Honda and gave him a preliminary estimate. Afterwards, Ken dealt with insurance company and provided Cliff with the updated information. Through the two-week repair period, Ken called Cliff frequently with updates on the progress of the repairs. Cliff notes that Ken did everything he promised and returned the Honda Civic looking better than ever.
Cliff plans to recommend Gulick's Auto Body the first chance he gets.
GULICKS SAVES THE DAY FOR WEARY TRAVELLERS
Kim P. from Encinitas, CA had this to say about Gulicks Body Shop (on 6/29/2012):
If there were a way to give 6 stars, I would....this business went above and beyond the call of duty.
Getting your car hit is a terrible experience that leaves you feeling quite helpless--especially when you are 550 miles from home on vacation! We got our car backed into while it was parked--immediately we knew our chances of getting home in our car in a week was next to impossible. Everyone we talked to said it would be at least 3-4 weeks.
Ken and his team at Gulick's got our car fixed in less than a week! It had significant damage. The rapid turnaround is a major plus--but more importantly dealing with Ken was amazing--honestly, the best experience I have had with any business in my 50 years...I thought I would have to call each day--but Ken just took charge. He called me at least once a day to let me know how things were going. On the day we were supposed to pick up our car (today), the insurance company who had assured me they would expedite things so we could get home called and said things had fallen through the cracks and they would not be able to authorize them to move forward on the repairs until Monday--the day we are supposed to leave. Well, guess what--this is the most amazing part--Ken had already moved ahead and fixed the car on the good faith that the insurance would come through based on his many years of experience. How many people would take that chance?? None that I know of...but Ken knew how desperate we were to go home in our car to he went the extra mile.
I kept waiting for something to slow it down or go wrong but all the way until the very end when we showed up to pick up our car that was restored to perfect shape, everything went amazingly smoothly. I cannot say enough about Gulicks. When dealing with a terrible situation, it is wonderful to meet someone who is so incredibly helpful who goes above and beyond the call of duty and does things in such a thoughtful manner. What an amazing experience--if anyone is looking for the perfect body shop, go to Gulicks!! You will not be disappointed.